How to Flawlessly Accessorize Your Yellow Dress
Hey there, fashionistas! It's your girl Sarah, back with another fabulous post on how to style your favorite pieces. Today, we're talking about the ultimate summer staple: the yellow dress. A bold and cheerful choice, a yellow dress can be the perfect canvas for accessorizing and making a statement. But, how do you find the perfect combination of accessories that'll make your sunny ensemble pop? Fear not, my stylish friends, I've got you covered! Here are 11 amazing ways to accessorize a yellow dress that'll have you looking chic and turning heads all summer long. Let's dive in!
Blue Earrings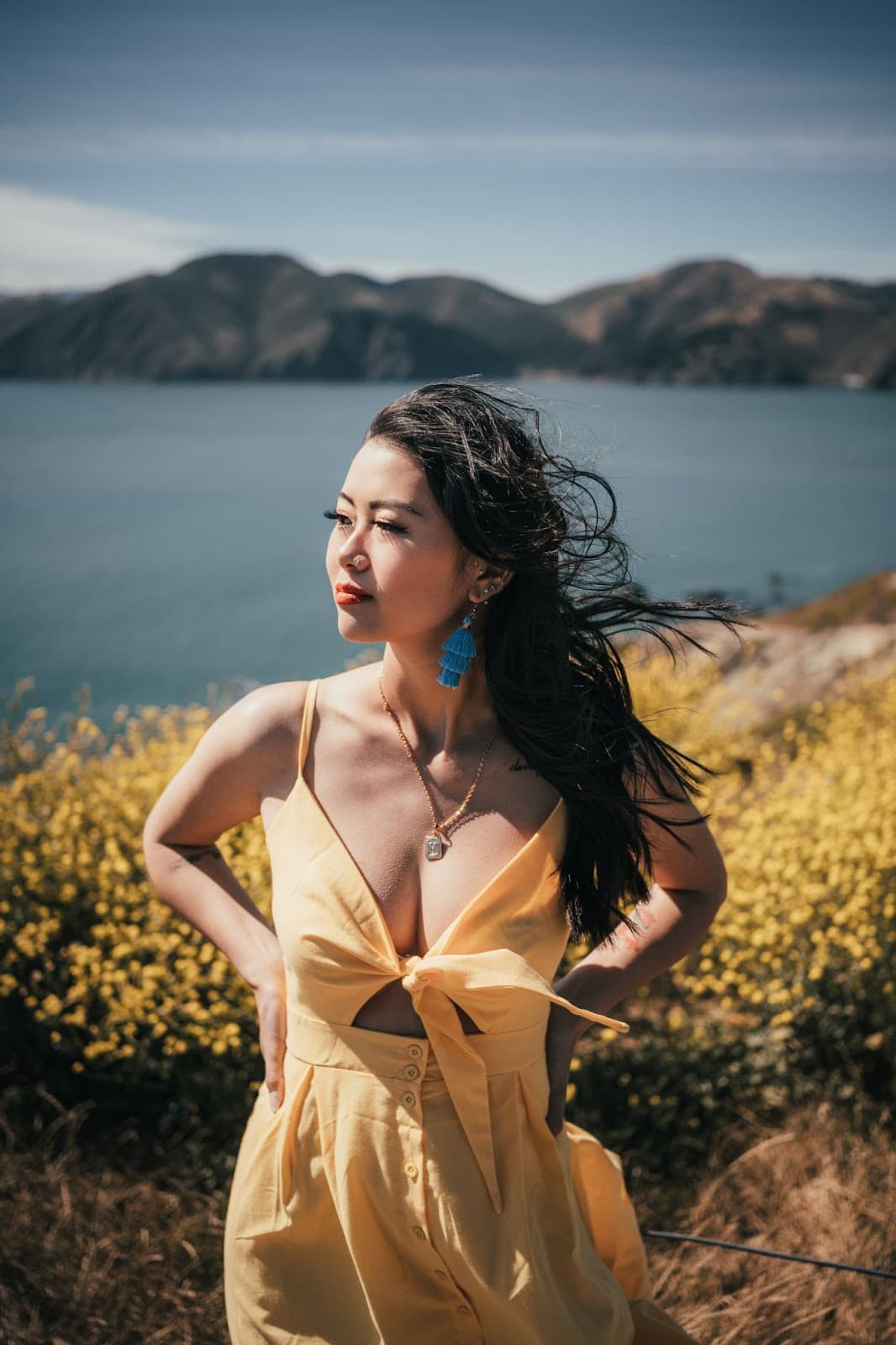 Nothing screams summer like a pop of color, and pairing your yellow dress with blue earrings is the perfect way to make a splash. Whether you opt for a delicate pair of baby blue studs or a bold, cobalt blue chandelier, these earrings will beautifully contrast the warmth of the yellow, creating a stunning and eye-catching effect. Plus, blue and yellow together give off major beachy vibes, so you'll look effortlessly cool no matter where you're headed.
Don't be afraid to experiment with different shades of blue to find the one that complements your dress and your skin tone the best. From turquoise to navy, there's a perfect blue earring out there for everyone!
Red Sunglasses
Who said sunglasses are just for protecting your eyes from the sun? They're also a fashion statement! If you want to add some serious sass to your yellow dress, red sunglasses are the way to go. The combination of red and yellow creates a fiery, dynamic look that's hard to miss. Plus, red shades can elevate a casual outfit into something truly memorable.
From cat-eye frames to oversized aviators, there are countless styles of red sunglasses to choose from. Find a pair that flatters your face shape and get ready to turn heads as you strut your stuff in your yellow dress and red shades combo.
Black Belt and Nude Purse
Sometimes, less is more. If you're looking to create a more polished and sophisticated look with your yellow dress, a black belt and nude purse are the perfect accessories. The black belt will cinch your waist, adding definition and a touch of elegance to your ensemble. Meanwhile, the nude purse will keep the focus on your dress without clashing with the bold yellow hue.
Choose a sleek, minimalist black belt and a simple, structured nude purse for a timeless, chic look. This combination works well for both daytime and evening events, making it a versatile choice for accessorizing your yellow dress.
Light Blue Bag
Want to give your yellow dress a dreamy, whimsical touch? Pair it with a light blue bag! The pastel blue shade will add a soft, ethereal contrast to the sunny yellow, creating a fresh and airy look that's perfect for daytime events and garden parties.
Experiment with different styles and materials to find the light blue bag that best suits your personal style. From leather crossbody bags to canvas totes, the options are endless. Just make sure to keep the rest of your accessories understated, so your light blue bag remains the star of the show.
Gold Sandals
If you want to let your yellow dress shine while still adding a touch of glam, gold sandals are the perfect choice. The metallic hue will complement the warmth of the yellow, creating a harmonious and effortlessly chic look. Plus, gold sandals can easily transition from day to night, making them a versatile addition to your summer wardrobe.
From strappy gladiator sandals to delicate slides, there's a gold sandal for every occasion and style. Pair your dress with a flat gold sandal for a more casual, laid-back vibe, or opt for a heeled version to elevate your look for a more formal event.
Jute Clutch
Channel your inner boho goddess by accessorizing your yellow dress with a jute clutch. This natural, earthy material adds a touch of laid-back, beachy charm to your ensemble, making it perfect for outdoor events, picnics, or even a casual date night.
Look for jute clutches with interesting details like embroidery, beading, or tassels to add an extra dose of personality to your outfit. Pair it with simple, understated jewelry and shoes to keep the focus on your stylish clutch and vibrant yellow dress.
Pink Bag and Pink Shoes
Feeling bold and daring? Why not accessorize your yellow dress with a pink bag and pink shoes? This unexpected color combination creates a playful, youthful vibe that's perfect for summer parties and brunch dates with friends. The key to pulling off this look is to choose complementary shades of pink that won't clash with the yellow hue of your dress.
Opt for a blush pink or a more muted, dusty rose shade for a subtler contrast, or go all-out with a bright, hot pink for a truly eye-catching look. Just remember to keep your other accessories minimal to avoid overwhelming your outfit.
Brown Purse
For a more classic, understated approach to accessorizing your yellow dress, consider a brown purse. The neutral shade will ground your outfit without taking away from the vibrancy of the yellow hue, making it perfect for those who prefer a more subtle look.
Choose a brown purse in a style and material that complements your dress, whether it's a structured leather satchel or a soft suede hobo bag. Pair it with matching brown shoes and simple gold jewelry for a timeless and elegant look that's suitable for any occasion.
Necklace With Gold And Black Details
Make a statement with a bold necklace featuring gold and black details. This striking accessory will add depth and contrast to your yellow dress, creating a look that's both chic and fashion-forward. The combination of gold and black elements will lend an air of sophistication to your outfit, making it suitable for more formal events and evenings out.
Experiment with different styles, lengths, and designs to find the perfect statement necklace for you. From chunky, geometric shapes to delicate, layered chains, there's a necklace out there that will perfectly complement your yellow dress and personal style.
Clear Bag and Jute Hat
Embrace the summer vibes with a clear bag and jute hat to accessorize your yellow dress. The transparent bag adds a modern, playful touch to your outfit, while the jute hat brings a hint of beachy, boho charm. This combination is perfect for casual summer gatherings, outdoor concerts, or a day spent shopping and exploring.
Choose a clear bag with interesting details, like colorful piping or a quirky charm, and a jute hat with a wide brim for added sun protection. Keep the rest of your accessories minimal and understated to let these fun pieces shine.
Black Shoulder Bag and Gold Bracelets
For a chic, polished look that can transition from day to night, pair your yellow dress with a black shoulder bag and gold bracelets. The black bag adds a touch of sophistication and versatility, while the gold bracelets bring a hint of glamour and shine. This combination is perfect for the office, dinner dates, or any event where you want to look effortlessly stylish.
Choose a sleek, minimalist black shoulder bag and stackable gold bracelets for a contemporary, on-trend look. Mix and match different bracelet styles, like cuffs, bangles, and chains, to create a unique and personalized accessory combination that complements your yellow dress and your personal style.
Strut Your Style
And there you go, my fabulous fashionistas: 11 show-stopping ways to accessorize a yellow dress that'll keep you looking fresh and stylish throughout the summer season. The secret to nailing a vibrant, eye-catching outfit is to embrace your creativity and let your inner fashionista take the lead. Don't hesitate to play with various accessories, explore bold color pairings, and above all, wear your yellow dress with unapologetic confidence. So go ahead, strut your style, and make the world your runway. Until next time, happy accessorizing!