How to Accessorize a White Dress for a Flawless Look
Hey there, fashionistas! It's your girl Sarah, back with another fab blog post to keep you looking chic all season long. Today, we're talking all about accessorizing the classic white dress. Now, we all know that a white dress is a staple in any wardrobe, but it can sometimes be a little tricky to style. That's why I've put together this handy guide with twelve amazing ideas to elevate your white dress game. So, whether you're heading to brunch with the girls or a romantic dinner, I've got you covered. Let's dive in!
White Bag With Color Details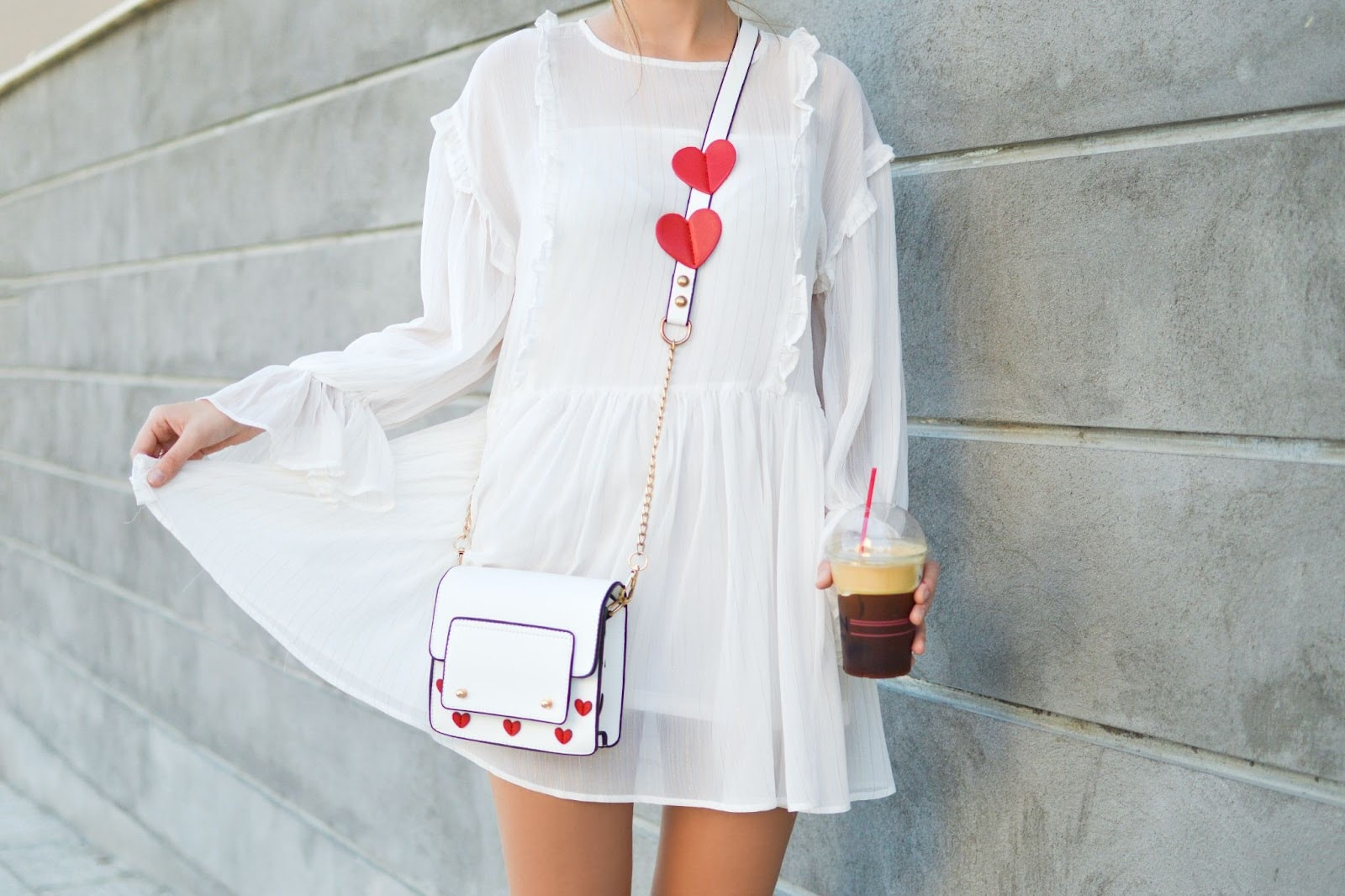 Pairing your white dress with a white bag that has pops of color is an amazing way to make a subtle statement. Look for bags with colorful embroidery, tassels, or even a chic pattern. This way, you can maintain that crisp, clean look while still adding some excitement to your outfit. Plus, a white bag with color details is a versatile accessory that can be easily mixed and matched with other wardrobe pieces.
If you're going for a more casual vibe, try a white tote with colorful handles or a white crossbody bag with a multicolored strap. For a more formal occasion, a white clutch with jewel accents is sure to turn heads. The key here is to find a balance between the white dress and the colorful accents on the bag, so that everything works together harmoniously.
Wooden Handbag
A wooden handbag is a unique and stylish choice to complement your white dress. It adds an earthy, boho-chic touch to your look while remaining classy and sophisticated. Wooden handbags come in various shapes, sizes, and designs, so you're sure to find one that suits your personal style. Opt for a bag with intricate carvings or a smooth, polished finish to elevate your look.
These handbags are especially great for outdoor events or summer parties, as they add a natural vibe to your ensemble. Pair it with flat sandals and a floppy sun hat for a laid-back yet elegant outfit. A wooden handbag is not only a statement piece, but it's also a conversation starter, making you the life of the party!
Sunglasses and Animal Print Shoes
Why not go bold with your white dress by pairing it with sunglasses and animal print shoes? This combination is perfect for a fun day out with friends or a casual date night. Choose sunglasses with a unique frame, like cat-eye or oversized, to make a statement. Then, find a pair of animal print shoes that complement the sunglasses, such as leopard-print flats, zebra-striped heels, or even snake-print sandals.
This look is all about letting your accessories do the talking, so keep your white dress simple and let your sunglasses and shoes steal the show. The key is to find the perfect balance between bold and stylish, so you don't look too over-the-top. Trust me, you'll be turning heads with this fierce ensemble!
Jute Purse
For a more casual and laid-back vibe, try pairing your white dress with a jute purse. These natural-fiber bags are perfect for summer outings and add a touch of boho charm to your outfit. Look for a jute purse with interesting textures, like woven or braided designs, to add visual interest to your look.
You can find jute purses in various styles, from large totes to smaller crossbody bags. Pair your jute purse with strappy sandals and a straw hat for a relaxed, beach-ready ensemble. This look is perfect for daytime events, picnics, or just a leisurely stroll through the city. Jute purses are not only stylish, but they're also eco-friendly, so you can feel good about your fashion choices while looking fabulous.
Nude Clutch
A nude clutch is a timeless accessory that works beautifully with a white dress. It adds a touch of sophistication and elegance without overpowering the simplicity of the dress. Nude clutches come in various shades, textures, and sizes, so you're sure to find the perfect one to complement your outfit.
For a more casual look, opt for a nude clutch with a textured or patterned design, like a woven or quilted finish. For formal events, a sleek nude clutch with gold or silver accents adds a touch of glamour. Pair your nude clutch with matching nude heels to create a seamless, elongated look that's both chic and effortlessly stylish.
Blue Earrings
Add a pop of color to your white dress ensemble with a pair of stunning blue earrings. Blue is a versatile color that works well with white, and it adds a touch of vibrancy to your outfit. Choose from various shades of blue, like cobalt, turquoise, or navy, and find a pair of earrings that best suits your style and personality.
For a more casual look, try a pair of playful tassels or beaded blue earrings. For a formal event, opt for a pair of statement-making chandelier earrings or elegant drop earrings in blue gemstones. The contrast between the crisp white dress and the bold blue earrings is both striking and visually appealing, making you stand out in any crowd.
Colorful Scarf
A colorful scarf is a fantastic way to add a burst of color and personality to your white dress. Choose a scarf in a vibrant pattern or bold color that complements your style. You can drape it around your neck, tie it around your waist as a belt, or even wrap it around your shoulders like a shawl.
This versatile accessory adds an element of fun to your outfit and allows you to express your creativity. Plus, a colorful scarf is a practical accessory for chilly evenings or air-conditioned venues. So, why not elevate your white dress with a colorful scarf that showcases your unique style?
Gold Accessories
Gold accessories are a timeless and elegant choice to pair with a white dress. The warm tone of gold complements the crisp white, creating a chic and sophisticated look. Choose gold jewelry, like necklaces, bracelets, and earrings, to accentuate your dress without overpowering it.
For a more casual look, opt for delicate gold jewelry pieces, like dainty chain necklaces or thin bangles. For a formal event, choose statement gold accessories, such as bold cuff bracelets or eye-catching chandelier earrings. Gold accessories are versatile and can easily transition from day to night, making them a must-have for any fashion-forward wardrobe.
White Sunglasses
White sunglasses are a fun and trendy way to accessorize your white dress, especially for daytime events or summer parties. They add a touch of playfulness and modernity to your outfit while keeping it cohesive and monochromatic. Look for unique frame shapes, like cat-eye or oversized, to make a statement.
Pair your white sunglasses with white sneakers or sandals for a sporty, laid-back vibe. Alternatively, you can dress up your white dress with heels and statement jewelry for a more polished look. Either way, white sunglasses are a fashionable and functional accessory that's perfect for your white dress ensemble.
Plastic Chain Bag
A plastic chain bag is a trendy and eye-catching accessory to pair with your white dress. These bags come in various styles, colors, and sizes, allowing you to find the perfect one to complement your outfit. Transparent plastic bags are especially popular, as they add a touch of modernity and playfulness to your ensemble.
For a more casual look, opt for a plastic chain bag in a fun color or with a unique design. For a more formal event, choose a sleek and minimalistic plastic bag with metallic chain accents. Whichever style you choose, a plastic chain bag is a fashionable and unique way to accessorize your white dress.
Animal Print Belt and Gold Purse
Make a bold statement with your white dress by adding an animal print belt and a gold purse. This combination creates a striking contrast and adds a touch of glamour to your outfit. Choose an animal print belt in a classic pattern, like leopard or zebra, and pair it with a sleek gold clutch or crossbody bag.
This look works well for both casual and formal events, as it effortlessly combines edgy and sophisticated elements. To complete the ensemble, consider adding gold jewelry or a pair of statement shoes in a matching animal print. With this attention-grabbing combination, you're sure to be the center of attention at any event.
Silver Bracelet
Silver bracelets are a chic and versatile accessory that can effortlessly elevate your white dress. Opt for a delicate silver bangle or a chunky statement cuff, depending on your personal style and the occasion. The cool tones of silver jewelry pair beautifully with the crisp white of the dress, creating an elegant and timeless look.
For a more casual ensemble, consider layering multiple silver bracelets in varying sizes and styles. For a formal event, choose a single, eye-catching silver bracelet that stands out. No matter the occasion, a silver bracelet is a stylish and versatile accessory that works well with a white dress.
Black Shoulder Bag and Sneakers
For a casual and sporty look, pair your white dress with a black shoulder bag and sneakers. This combination is perfect for a laid-back day out or a casual weekend event. The contrast between the black accessories and the white dress creates a chic and modern vibe that's effortlessly stylish.
Choose a sleek black shoulder bag with minimal detailing to keep the focus on the dress. Opt for comfortable and stylish sneakers, like low-top canvas or leather options, to complete the look. This relaxed ensemble is not only fashionable but also perfect for those days when you want to prioritize comfort without sacrificing style.
Conclusion: Accessorize Like a Pro!
There you have it, fashion lovers! These twelve ideas are perfect for accessorizing your white dress and creating a stylish and unique ensemble for any occasion. From bold statement pieces to timeless classics, there's something for everyone. So, the next time you slip into that crisp white dress, try one (or more) of these fabulous accessory combinations and watch your style soar. Remember, the key to a great outfit is confidence and a smile, so wear your accessories proudly and let your personality shine. Happy styling!